The global push for green initiatives and the energy crisis fueled by the Russia-Ukraine war have spurred the solar inverter industry growth. Implementation of ESG strategy has become pronounced to help companies update and assess their goals. Investors prioritize ESG criteria to screen possible investments and it helps companies build trust with stakeholders and foster a sustainability portfolio. Key players have exhibited increased traction for renewable energy technologies and net zero products to provide low-carbon power generation solutions at a reduced cost.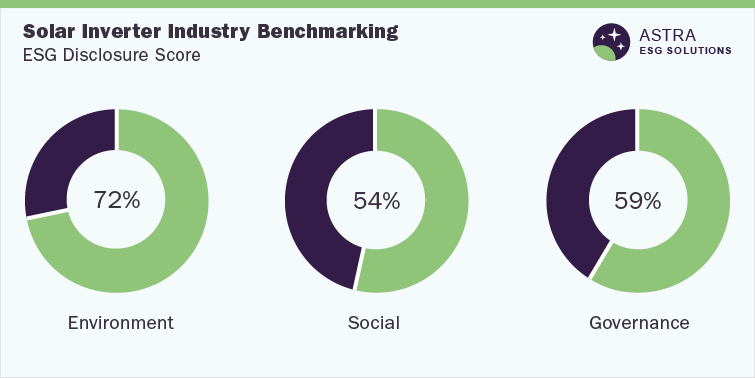 Solar cell manufacturing is resource intensive and warrants a significant amount of industrial material and water. Besides, the manufacturing process may involve unsustainable mining practices and toxic waste. The issue of labor practices has also garnered headlines. The 2021 International Labor Organization (ILO) report suggests that 50 million people are in modern slavery every day. Moreover, the Credit Suisse Global Wealth Report claimed the world's richest 1 percent—those with over USD 1 million— own 45.8 percent of the world's wealth. Stakeholders demand ESG discipline from companies, their value chain, regulators, investors and consumers. 
Discover more regarding the practices and strategies being implemented by industry participants form the Solar Inverter Industry ESG Thematic Report, 2022, published by Astra ESG Solutions
Environmental Perspective
Enterprises and organizations with sustainable policies have exhibited increased inclination for the environmental aspect. The World Economic Forum ranked environmental risks as the five most critical long-term threats in its Global Risks Report 2022. Some factors, such as extreme weather, biodiversity loss and climate action failure, have made solar inverters promising investments for stakeholders with a focus on ESG portfolios. The unprecedented growth of digitization and the shift from fossil fuels to renewables have encouraged leading players to boost the environment. For instance, Eaton uses power management technologies and services to enhance the quality of life and the environment. The company aims to reduce GHG emissions by 50% from its operations by 2030 from 2018 levels. The multinational power management company asserts its 94% of manufacturing waste in 2021 was diverted away from landfills through recycling, reuse, waste-to-energy or composting. The company alluded to an infusion of over USD 3 billion in sustainability R&D over the next ten years in its 2030 Sustainability Goals. 
Forward-looking players are leveraging their research and development activities and renewable energy to provide reliable, safe and efficient solutions to expedite growth in the energy transition. To illustrate, Delta Electronics is committed to using 100% renewable electricity and attaining carbon neutrality in the global supply chain by 2030. Meanwhile, in 2021, OMRON announced pouring 257 million yen (roughly USD 1.8 million) to minimize the environmental influence of its business activities. The company, having set the OMRON Carbon Zero project, contemplates minimizing emissions by over 30% by 2050. Besides, in March 2021, ABB announced it achieved the 5GW milestone of providing solar plant automation solutions in India. Stakeholders are likely to help customers avoid emissions through the modernization of grids, a smarter built environment and sustainable transport. 
Social Perspective
ESG standards have become paramount for viable working conditions, employee and stakeholder wellness and equal opportunities. Eaton has set up the Compensation and Organization Committee to oversee and review matters pertaining to social aspects, such as training and development, employee engagement, pay equity, inclusion and diversity and culture. Furthermore, Siemens aims for a 30% female share in top management by 2025. It vies for double digital learning hours by 2025 and a 30% enhancement in its globally aggregated LTIFR by 2025. The company poured €318 million (approximately USD 327 million) into employee education and training in 2021.
Meanwhile, Delta joined forces with the Taiwan Architecture & Building Center in Well architecture course in 2021 to offer innovative courses. The company adopted the "Influencing 50, Embracing 50" slogan to boost teamwork and face future challenges in its 50th anniversary in 2021. Prominently, Delta Electronics was in the pole position in overall social performance with almost 80% score. Stakeholders are also poised to emphasize fun games, contests and music to bolster the identity and connection among global employees, products and the brand. Leading players are slated to prioritize social pillar in the ensuing period to tap into the global landscape and bolster their brand position.
Is your business one of participants to the Global Solar Inverter Industry? Contact us for focused consultation around ESG Investing, and help you build sustainable business practices.
Governance Perspective
The need to achieve sustainability goals through robust corporate governance, underpinning social progress and balancing stakeholders' interests has become instrumental to staying ahead of the curve. The demand for, including but not limited to, transparency, board diversity and disclosure has furthered encouraged stakeholders to focus on the governance portfolio. According to Eaton TCFD disclosure, its board comprises 12 members—one-third are U.S. minorities and another one-third are women. The company's governance committee is tasked to prioritize matters regarding the governance and environmental pillars of ESG. While Eaton has exhibited a sound governance system, Siemens is at the helm with over 90% score. The Supervisory Board at Siemens set a bullish target stating that at least 25% of the managing board position would be held by women until June 30th 2022. The company also augmented the external sustainability audits. According to its Sustainability Report 2021, Siemens conducted 394 sustainability audits in 2021, up from 269 audits in the preceding fiscal year. 
Emerson has upped its focus on corporate governance to foster diversity, equity, inclusion and performance-based ESG goals. To put this into perspective, 45% of Directors are persons of color or women, while 60% of the Office of the Chief Executive is diverse. The company has exhibited an increased focus on anti-corruption controls and other compliance factors, including conflict of interest, ethics allegations and data privacy. Emerson asserted in its ESG report that around 61,000 employees undertook anti-corruption training over the past three years. It alluded to its engagement with a third party to review its Ethics and Compliance program, which is in line with the Committee of Sponsoring Organizations of the Treadway Commission (COSO) framework and the U.S. Department of Justice. 
An unprecedented surge in the demand for renewable energy, along with the rising footfall of solar power PV installation, has augured growth. The global solar inverter market size was pegged at USD 9.31 billion in 2021 and will observe a 6.2% CAGR from 2022 to 2030. Leading players are expected to expand their penetration across the Asia Pacific as China is poised to provide promising opportunities with a focus on minimizing solar power costs and bolstering incentives. Well-established companies are expected to prioritize organic and inorganic growth strategies. To illustrate, in May 2022, Eaton announced the acquisition of a 50% stake in Jiangsu Huineng Electric Co., Ltd.'s circuit breaker portfolio. Meanwhile, in February 2022, Siemens and Desert Technologies collaborated to roll out and infuse funds into solar and smart infrastructure in the Middle East, Africa and Asia. The project could have the aggregate capacity of over 1 GW and will offer reliable, clean and affordable energy in under-served areas.
About Astra – ESG Solutions By Grand View Research
Astra is the Environmental, Social, and Governance (ESG) arm of Grand View Research Inc. – a global market research publishing & management consulting firm.
Astra offers comprehensive ESG thematic assessment & scores across diverse impact & socially responsible investment topics, including both public and private companies along with intuitive dashboards. Our ESG solutions are powered by robust fundamental & alternative information. Astra specializes in consulting services that equip corporates and the investment community with the in-depth ESG research and actionable insight they need to support their bottom lines and their values. We have supported our clients across diverse ESG consulting projects & advisory services, including climate strategies & assessment, ESG benchmarking, stakeholder engagement programs, active ownership, developing ESG investment strategies, ESG data services, build corporate sustainability reports. Astra team includes a pool of industry experts and ESG enthusiasts who possess extensive end-end ESG research and consulting experience at a global level.
For more ESG Thematic reports, please visit Astra ESG Solutions, powered by Grand View Research